Welcome to the Fortresscraft Evolved Wiki. This wiki was created and is maintained by fans of the game and is not sponsored by or endorsed by the game's developers. If you are a new player take a look at the getting started guide for a crash course in world creation and early game progression. If you are looking for information about a specific topic or machine use the links below.  Thanks for visiting!
Crafting Items
For a full alphabetical list of all Machines and Items click here: Machines, Items
Useful Information
Commonly used
acronyms
News & Updates
Patch 21 now live. here.
Patch 20 now live. here.
Patch 19 now live. here.
Patch 18 now live. here.
Patch 17 is here, after 10 long months! here.
Patch 16 : FortressCraft Re-imagined. here.
Patch 15 and FortressCraft's 3rd Christmas! here.
V14 Bleeding edge notes here.
Patch 13 - Added October 28th - Check out more information here.
DJArcas, the developer, streams his development here.
Switched over to Unity 5.4 with patch 12 - The game is going to get even better!
Community & Useful Links
Unofficial Teamspeak 3 server ts.keplergaming.com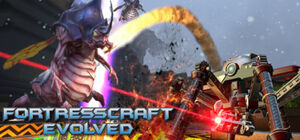 New to FortressCraft Evolved?
Check this out: Getting Started
 Download & Support
Download NOW from Steam!
Love the game, Show your support become a Patron!
About FortressCraft Evolved
The original FortressCraft was one of the best-selling Indie games of all time released on the Xbox 360 Marketplace. FortressCraft Evolved grows from this powerful base, giving access to incredibly detailed and epic Creative building, with 2 different modes, Creative Mode and Survival Mode, each offering a different way to play the game. Relax and design anything your mind can imagine, or dig deep into the core of this strange alien planet to research strange materials and use your surroundings to survive from enemies and the strange weather found not just on the surface, but deep underground.
 About The Wiki
This is the community wiki for the game FortressCraft Evolved. It will be kept up to date and contain all the information about the game you could possibly need! The page is currently under construction on a daily basis and over time will be filled with even more information, please check back at a later date to see what's new, This section will change over time from "About the Wiki" to "Latest Wiki Updates" with information on all new pages and information added as well as what is currently being worked on at this time.