Welcome to the Fortresscraft Evolved Wiki. This wiki was created and is maintained by fans of the game and is not sponsored by or endorsed by the game's developers. If you are a new player take a look at the getting started guide for a crash course in world creation and early game progression. If you are looking for information about a specific topic or machine use the links below.  Thanks for visiting!
Useful Information
Items and Crafting
| | | |
| --- | --- | --- |
| Ores and Blocks | Power | Mining and Smelting |
| Item Transport | Machines | Item Storage |
| Defences | Flora and Fauna Items | Upgrades |
| Machine Parts | Consumables | Player Transport |
Commonly used
acronyms
News & Updates
DJArcas, the developer, streams his development here.
Switched over to Unity 5.4 with patch 12
Community & Useful Links
Unofficial Teamspeak 3 server ts.keplergaming.com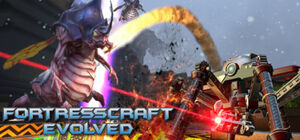 New to FortressCraft Evolved?
Check this out: Getting Started
About FortressCraft Evolved
FortressCraft Evolved is a unique blend of Voxel Landscapes, Tower Defense, Crafting, Logistics, Exploration, Combat and Assembly lines. Players begin by crash-landing on a strange alien world, left with only a small handful of starting machines.
 Download & Support
Download NOW from Steam!
Love the game, Show your support become a Patron!